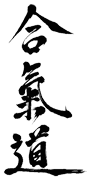 Come and discover Aikido !

In November, we're offering you a one-week commitment trial.
It's time to discover our Dojo and the discipline
during school vacations!
Our Dojo - Dojo Makoto of Marseille - invites you to discover Aikido at the Aki Matsuri, the Autumn festival organized by the Japanese Consulate in Parc Borely.
We'll be there on Saturday, September 30: with demonstrations to introduce you to Aikido and a Dojo stand to answer to your questions.


It's a great opportunity to discover Japanese arts and traditions!