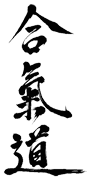 One needs to start Aikido practice like one would address entering a school. It is in this perspective that one needs to enter the Dojo; the corresponding attitude is called « Jikotu ». It is essential in the relation Dojo - student - teacher.
Taking on the practice with this appropriate attitude allows one to learn its essence, beyond its technical reproduction. In order to facilitate this, two levels of classes exist, to allow each and everyone to work and learn at his/her own pace.
All level classes
They are destined to everyone.
Advanced classes
On a proposal from the teacher.
Be most welcome!